Allcare™
$19.60 - $73.80
Regular price: $21.80 - $82.00
Allcare™ has been formulated to provide comprehensive, balanced nutrition to all horses and ponies, in a highly concentrated form.

Allcare™ may be added to a current diet, which is ideal for performance horses in training and competition that may require higher nutrient values.

Ideal for easy keepers & grazing horses to meet their nutritional requirements without the excess calories or as an addition to performance horses that may require higher nutrient values.


Allcare™ contains a mega blend of vitamins, minerals & yeast strains. 
Rich in antioxidants

Bonafide® with the patented active constituent Quinaquanone®, a bio-available form of Vitamin K1 & K2

Contains a mycotoxin binder 

Prebiotics & Probiotics for a healthy digestive system
Vegetable protein meals, mill mix, calcium carbonate, di calcium phosphate, magnesium oxide, methionine, lysine, thiamine, biotin, fenugreek, prebiotics, probiotics, Hygain® vitamin and chelated mineral premix, organic minerals compound and yeast extract and Quinaquanone® (active constituent of Bonafide®)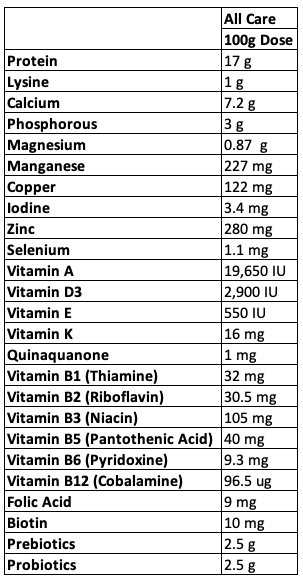 Allcare may be fed in isolation or mixed into daily feed. Recommended dosage rates are listed below.
Scoop holds 50g.
Minis and ponies: 1 level scoop per day
Horses: 2 level scoops per day
Caution: Fenugreek should not be fed to pregnant mares as animal studies have shown that it may cause uterine stimulation.